BRACKET I, Third Round (Matches 541 & 542):
Bobo Brazil VS Luke Harper
This one is tough, as Harper's been killin' it lately, but Brazil is a legend, and killed it for many moons. Bobo in a good one.
Jim Londos VS "The World's Strongest Man" Mark Henry
Last night I stumbled on footage of Jim Londos wrestling Bronco Nagurski for the World Heavyweight Championship back in 1938. The film was not well preserved, but it still showed most, if not all of the contest, and if Londos could fend off Bronco strength wise, he could at least stand up to Mark Henry, one would think. Add his technique in, and you have the Greek Adonis going over the curator of the Hall of Pain.
BRACKET II, Third Round (Matches 543 & 544):
Eddie Edwards VS The Iron Sheik
All good things and all. Iron Sheik humbles Eddie Edwards around the 15-minute mark.
"Rugged" Ronnie Garvin VS "Scrap Iron" Adam Pearce
Both men have held the NWA gold, but Peace did it in the last five years, after they left TNA. Garvin wore the Big Gold Belt back in 1987 by beating Ric Flair for it. Plus, Garvin traded the NWA TV Title back and forth with Jake "The Snake" Roberts in the early 80's, and he's got "Hands Of Stone". Garvin for the win.
BRACKET III, Third Round (Matches 545 & 546):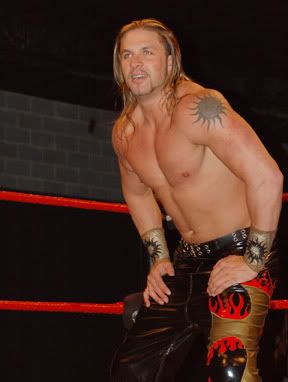 Wladek Zbyszko VS Lance Hoyt
I had no idea Lance Hoyt was so flexible...being bent into a pretzel like that by Mr. Zbyszko can't have been comfortable...
"The Nature Boy" Ric Flair VS The One Man Gang
Speaking of the Nature Boy, here he is using his brain power (and heel shit aplenty) to overcome the obstacle of the 6'9" 450lb. monster from Chi-Town. He ain't gettin' the Figure Four on this bad boy, but he can also school boy trip, roll up, hook the tights and put feet on the ropes with the best of 'em! WOOOO!!!!!
BRACKET IV, Third Round (Matches 547 & 548):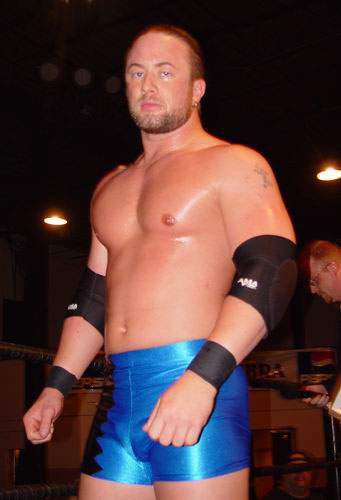 BJ Whitmer VS D-Von Dudley
This is what Jim Ross would call a "Slobber-Knocker". Two tough guys going at it for ten minutes and leaving it all in the ring. D-Von has the experience edge by almost a decade, so I've gotta go with him.
Da fuck?
Antonino Rocca Alexander Rusev VS Shad Gaspard
Finally, I have definitive proof that this tournament is just too fucking big (as if all these entries weren't enough). Out of 720 wrestlers, ONE GUY was in the brackets twice, and his name is Antonino Rocca. He would have faced Shad Gaspard here today, but I just published an entry yesterday saying he lost to Hulk Hogan in Bracket XLII. It was a rando-type-a-choice, but I decided to have him fall to Hogan, and replace him with another wrestler here in Round 3 before Round 3 really got going.
But who do you replace him with? There's already SEVEN HUNDRED AND FUCKING TWENTY WRESTLERS IN THIS THING. Easy. I picked a guy I didn't know existed until well after the tournament started, and has been bulldozing under guys on Raw for the past few weeks now. Alexander Rusev. And speaking of bulldozing, he would have bulldozed Rocca's first round opponent Mikey Whipwreck, and may or may not have been able to defeat Waldo Von Erich in Round number two. (I'm okay with "may".) Which brings us to Shad, who, in spite of his 6'7, 300lb. frame and incredible strength and agility, would have been crushed beneath the Bulgarian Nightmare's wave of brute force. (Especially out of a tag setting.) Rusev for the win.
RECAP:
Bobo Brazil defeats Luke Harper
Jim Londos defeats Mark Henry
The Iron Sheik defeats Eddie Edwards
Ronnie Garvin defeats Adam Pearce
Wladek Zbyszko defeats Lance Hoyt
Ric Flair defeats One Man Gang
D-Von defeats BJ Whitmer
Alexander Rusev defeats Shad Gaspard
Come on back for Brackets V, VI, VII and VIII!