BRACKET XXI:
"Mr. Wonderful" Paul Orndorff VS Daniel Puder
Even without his current Mustache of Power, Mr. Wonderful's got this.
Bull Buchanan VS Hernandez
The Battle of The Bald Brutes! Hernandez is way more awesome than workman Bull. SuperMex FTW.
Umaga VS Jerry Lynn
Jerry Lynn is a fantastic talent, but there is no way, without outside interference, he could be booked to beat Umaga. The Samoan Bulldozer advances.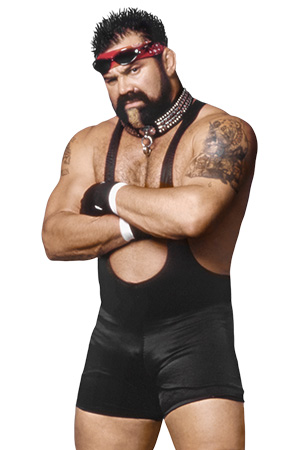 Andre The Giant VS Rick Steiner
This would be fun to watch, since Rick has some power in his game, but Andre is too much for almost any man who ever got in the ring with him. The Giant moves on.
BRACKET XXII:
Pat O'Connor VS Chris Sabin
O'Connor could tie this guy up in pretzels, token TNA Title win or not.
The Berzerker VS Lash LeRoux
Lash is toast. HUSS!!!! HUSS!!! (Berzerker advances.)
Gene Kiniski VS Xavier Woods (aka Consequenses Creed)
The percentage likelyhood Mr. Kiniski wins? IT'S OVER 9000!!!
Rob Terry VS "Mr. Perfect" Curt Hennig
Mr. Perfect is more than enough of a match for the British Gasball. PerfectPlex and a smirk, then Hennig reveals he was still chewing gum the whole match and does that thing where he spits it out and bats it away in mid free fall.
RECAP:
Paul Orndorff defeats Daniel Puder
Hernandez defeats Bull Buchanan
Umaga defeats Jerry Lynn
Andre The Giant defeats Rick Steiner
Pat O'Connor defeats Chris Sabin
The Berzerker defeats Lash LeRoux
Gene Kiniski defeats Xavier Woods
Mr. Perfect defeats Rob Terry
Come on back next week!