MVP (Montel Vontavious Porter) VS Shawn Michaels
Hoo boy, would this be a classic! MVP is proving even in 2014 that he can still go, and I'm sure Michaels would at least avoid making a fool of himself if he decided to step back in the ring, but that's a moot point. We're talking about both guys in their prime. For my money, Michaels's prime was after the back injury. The guy just came back so free, so ready to do anything that it turns out he could do everything. And yo, MVP is a helluva competitor, but there's no way he's beating Shawn Michaels in his prime. (That underline was an accident, but since it was the third time I'd italicized something in the match, what the hell?)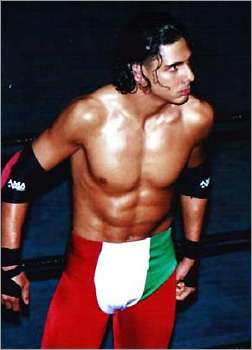 Tony Mamaluke VS Fandango
Fandango sashes his way to Round 2.
Sylvan Grenier VS Yoshi Tatsu
Yoshi Tatsu is hella underrated. He gets the victory over a guy who's move was called "The French Tickler" and had a giant poodle accompany him to ringside.
Curtis Axel VS Heath Slater
The way they're booking 3MB these days, Curtis Axel could probably beat all three of them at once.
Happy Humphrey VS Johnny "The Bull" Stamboli
Johnny The Bull was an all right guy in WCW. But dude, no way in hell he's beating a guy who was almost 800lbs. (that's not an exaggeration; Happy Humphrey was the heaviest wrestler in history, once tipping the scales at 900lbs.).
Billy Gunn VS Shelton Benjamin
Shelton Benjamin should have been World Champion. I don't know what the hell happened. But dammit, he's going deep on these ho's. Billy ain't no pushover, but Shelton gotsta get to the finals. Ain't no stoppin' him NAAAAW!
Les Thornton VS Damien Demento
Damien Demento's only accolade is main eventing the first episode of Monday Night Raw against The Undertaker. Les Thornton was one of the best juniorweights of the 70's. Thornton in five.
D'Lo Brown VS Hillbilly Jim
You can't plant hayseed in a chest protector. D'Lo busts out the loaded frog splash for the win. (And the head bobble.)
RECAP:
Shawn Michaels defeats MVP
Fandango defeats Tony Mamaluke
Yoshi Tatsu defeats Sylvan Grenier
Curtis Axel defeats Heath Slater
Happy Humphrey defeats Johnny The Bull
Shelton Benjamin defeats Billy Gunn
Les Thornton defeats Damien Demento
D'Lo Brown defeats Hillbilly Jim
Come on back Monday for the conclusion of the First Round!!!