Tiger Ali Singh VS Al Snow
Al Snow was a linchpin of the Attitude-Era Hardcore division, and continues to be a decent hand in the ring, even at 50. Nobody remembers Tiger Ali Singh, despite being in the WWF at the same time Al Snow was doing all types of awesome shit. Al Snow wins.
Magnum T.A. is a guy who a lot of people point to (especially in the South) as "One of the best to never win the World title". I think that's more than enough to get over a glorified manager/wrestler/vampire.
Tank Abbot VS X-Pac
Yes, in a real fight, Tank Abbot murders Shawn Waltman (and probably 85% of the human beings on the planet). But this is wrestling, where brains, quickness and cunning can outdo pure slaughterpower. And really, can you picture Tank Abbot going over X-Pac? Not really. (Not even if he "threatened to fucking cut me".)
The Fake Razor Ramon (Rick Bognar) VS Stu Hart
Ummm...Stu. In two.
Anthony Durante (aka Pit Bull #2) VS Tom Brandi (aka Salvatore Sincere)
Pit Bull #2. Gets the duke.
Orlando Jordan VS Val Venis
The three wrestling memories that stand out the most when I think of Orlando Jordan are: 1) Losing to Chris Benoit at SummerSlam '05, then having Benoit replay the match while in the corner of the screen he barely finished making himself a cup of coffee before the clip was over, 2) Losing to The Ultimate Warrior in Spain in Warrior's first match in ten years, during which his opponent looked like the drizzlin' shits, and 3) Wearing nothing but a toga made of caution tape and pouring milky white stuff on himself. In spite of all this, I think Jordan had more potential than Val Venis (who has always bored me to death). Unfortunately, Val would totally win this shit. I can't really argue, given the track records.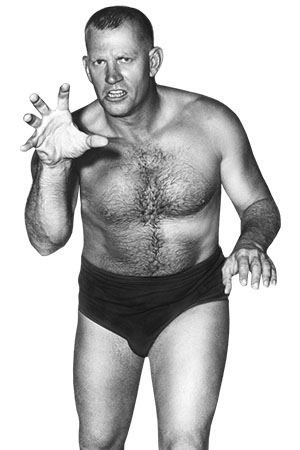 Don Harris VS Fritz Von Erich
Even a tall man falls to the claw, man. Fritz.
Lance Cade VS Sgt. Slaughter
Is Sgt. Slaughter gonna hafta choke a bitch? Yes. Yes he is.
RECAP:
Al Snow defeats Tiger Ali Singh
Magnum T.A. defeats Gangrel
X-Pac defeats Tank Abbot
Stu Hart defeats X-Pac
Anthony Durante defeats Tom Brandi
Val Venis defeats Orlando Jordan
Fritz Von Erich defeats Don Harris
Sgt. Slaughter defeats Lance Cade
Come on back Monday for Bracket XL!