Knox is starting to come into his own in TNA, as opposed to where he was a few years ago lost in the WWECW shuffle. Chris Hero is good, but I like Knuxie in this one.
Rip Morgan VS "Conan" Chris Walker
It's good odds this match happened at some point in GWF. And even though Chris Walker was supposed to be the muscle-bound good looking good guy, Rip Morgan looks like he could kill you just by looking at you. His in-ring wouldn't necessarily back that up, but he was pretty good. Morgan for the win.
Chavo Guerrero Jr. VS Ron "The Truth" Killings
At first, I thought R-Truth had this one: The guy's a 2-time former TNA World Heavyweight Champion, and has done some decent work in WWE. But then I think back to just how good (and how criminally underrated) Chavo has been since the mid-90's, and I've gotta go Chavo. The feuds he had with Mysterio, his tag run with Uncle Eddie, his six reigns as Cruiserweight Champion and his one as ECW champ...Chavo is really good, and has more than 20 years experience under his belt. Win.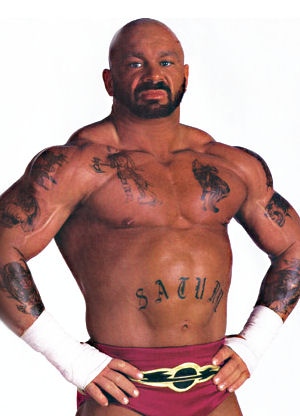 Tully Blanchard VS Perry Saturn
This was a tough one to parse at first. Both are great technicians and both were guys that could have but never quite broke through to the main event picture. But Tully Blanchard's legendary reign as the NWA TV Champ in 1984 seals the deal. Not only did he successfully defend against Ricky Steamboat, but it took Dusty Rhodes to dethrone him. Plus, he's a Horseman. Done deal. But Saturn wouldn't go quietly; it would be an 18-19 minute, back and forth mat classic.
C.M. Punk VS Lodi
The Best In The World would be no match for WCW's answer to Sign Guy Dudley! Lodi in 15 seconds! (Just kidding. Punk in a minute.)
Colonel DeBeers VS Paul London
In the interest of good taste (and the fact that Paul London was hella whoa in the ring), I'm putting London over DeBeers, because Apartheid based wrestling gimmicks ain't cool, man.
Max Moon VS Nigel McGuiness (aka Desmond Wolfe)
No matter who was under the mask, Nigel McGuiness would've wiped the mat with 'em. Nigel was such a good ROH champ that TNA put him directly into a rivalry with Kurt Angle upon his arrival. He'd probably be a former TNA champion by now too if his career hadn't been cut tragically short by hepatitis C.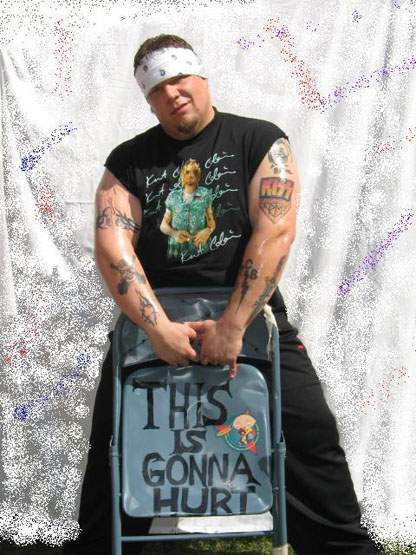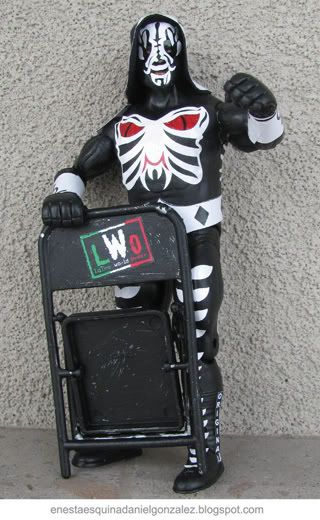 Axl Rotten VS La Parka
Not even the "Chairman" himself would be able to match swings with Axl Rotten. That guy don't give a FUCK, bwoi! Axl in four.
RECAP:
Mike Knox defeats Chris Hero
Rip Morgan defeats "Conan" Chris Walker
Chavo Guerrero Jr. defeats R-Truth
Tully Blanchard defeats Perry Saturn
C.M. Punk defeats Lodi
Colonel DeBeers defeats Paul London
Max Moon defeats Nigel McGuiness
Axl Rotten defeats La Parka

Come on back for bracket XVI!