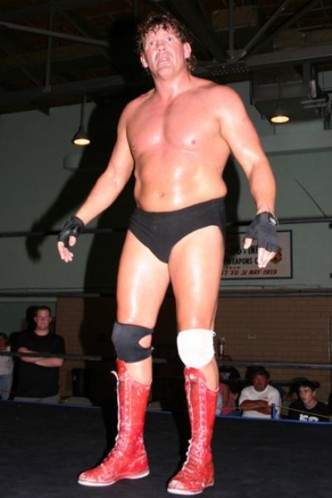 Tracy Smothers VS Yokozuna
This wouldn't be pretty. Smothers is no slouch, but Yokozuna was over 500 pounds and, or his size. quick as a cat. The proverbial and literal squash match.
Vince McMahon VS Kurt Angle
The only way Angle loses this is in McMahon's dreams, or if a McMahon books it. Fortunately, we're under neither delusion. Angle muthafukin' LOCK boi!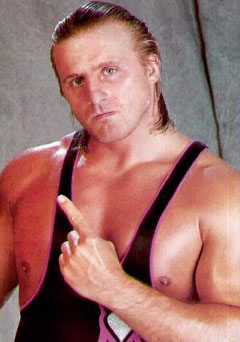 Owen Hart VS Black Bart
Watching through GWF episodes, Black Bart cut the most annoying promos. He yells so shrilly with every single breath. Never a different gear. Fuck that guy. Oh, and Owen Hart was one of the best wrestlers to never hold the world championship (and believe me, he would have had he lived). So yeah, no contest.
Percy Watson VS Frankie Kazarian
An NXT guy against a multiple time X-Division Champion? If this was NXT, there would be some angle where Kazarian wouldn't even be able to touch Percy Watson without falling down and losing the match. In reality the ten year vet who can put on a hell of a match beats Watson without breaking much of a sweat.
Brakkus VS Stan "The Man" Stasiak
Brakkus only made a handful of appearances in WWF, then had a few ECW gigs before disappearing altogether. Stan "The Man" (not the baseball player) is the guy that beat Pedro Morales for the WWWF Championship 40 years ago this month. (Yeah, he lost it to Bruno in his first defense nine days later, but he held the title when it mattered dammit!) Not much of a contest here either.
Kenzo Suzuki VS "Jungle" Jim Steele
Don't really know enough about either guy to call this one. My gut says Suzuki since he was on SmackDown circa 2003 and got a few mid-card wins, but you never know. To WikiPedia!
Okay, so Suzuki was Tag Team Champ on Smacky-Whacky back in '03, and Jim Steele managed to wrestle a handful of WCW Saturday Night Matches in '93. Ironically, he had some tryout matches at the same time Suzuki was debuting, but wasn't hired, so there's your indicator right there. Suzuki wins!
Eugene (aka Nick Dinsmoore) VS The Boogeyman
As the Eugene character, I think he would put up a valiant effort, but Boogeyman would scare him or gross him out into losing or something, so look out second round. He's. The BOOGEYMAN. And he's. Comin'. Ta GET YA! MWOO HA HA HAHAHAH!!!!
Sam Houston VS Shaggy 2 Dope
Even if Sam Houston wasn't a pro wrestler, the fact that he's related to Jake "The Snake" Roberts already gives him enough pedigree to elevate him beyond Shaggy 2 Dope.
RECAP:
Yokozuna defeats Tracy Smothers
Kurt Angle defeats Vince McMahon
Owen Hart defeats Black Bart
Frankie Kazarian defeats Percy Watson
Stan "The Man" Stasiak defeats Brakkus
Kenzo Suzuki defeats "Jungle" Jim Steele
The Boogeyman defeats Eugene
Sam Houston defeats Shaggy 2 Dope
Come on back for Bracket XXVIII!