A Special Note: This Bracket wound up being primarily wrestlers famous for being in Tag Teams. Weird how that one worked out.
Jimmy Uso VS Ax (from Demolition)
Being that Demolition is one of my favorite tag teams of all time, and I just kinda like the Usos, Ax wins.
Wayne "The Train" Bloom (aka Blake Beverly of The Beverly Brothers) VS Matt Hardy
Matt Hardy, as allergic as he seems to be to world titles and main events, could easily handle a Beverly Brother. Four minutes.
"Primetime" Elix Skipper VS General Adnan
"Primetime" has been underrated since his WCW days. He never really got a chance to break out as a singles star, making most of his bones as a member of Triple X in TNA. (For the uninitiated: No, neither of those things is a porno.) General Adnan has the experience edge, but was always little more than a glorified manager that sorta looked like Saddam Hussein. Skipper in 3:20.
Jack Brisco VS Booker T
Two former world heavyweight champions and two WWE Hall Of Famers from two different eras. Brisco beat Harley Race for his first championship reign, though he was initially scheduled to beat Dory Funk Jr. for it. There was a truck accident, the legitimacy of which is questioned by some to this day, where Funk had to drop the title because he couldn't make the date against Brisco. Whatever the case, this wound up being a sort of hot-shot situation. Though on the other hand, "hot-shot situation" DEFINED WCW for the last two years of its existence, especially the era in which Booker T won five world titles in the company's final nine months (and a U.S. title). His sixth and presumably final reign came in 2006 as Kiiiiiiing.........Bookaaaahhhh!!!! (All Hail!) And really, even though I wasn't watching at the time, I hear he was a pretty good champ in place of the injured Batista. Looking at the two, I gotta give the edge to Booker, being that the other things he did in addition to being world champ make for a more impressive overall resume than the erstwhile Mr. Brisco. But it would be close. 18:36, were talking, with a back and forth match-up and a smattering of "This is wrestling!" chants to boot.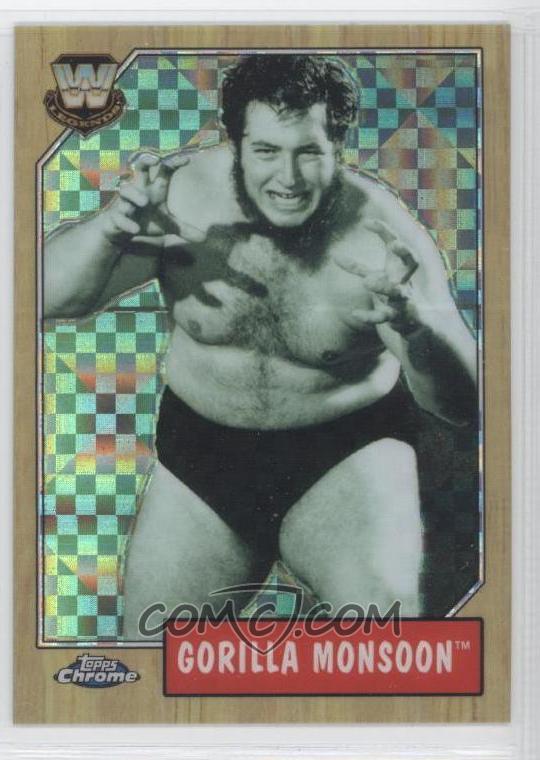 Nathan Jones VS Gorilla Monsoon
No "This is wrestling!" chants here, boy. HOO SIREE, no SIR! The veteran Gorilla Monsoon (who in his prime weighed about 440 and stood around 6'5") would make short work of the green as grass Nathan Jones (in spite of the latter standing seven feet tall and having a legit decade of Australian jail under his belt). Did dude ever even wrestle a one-on-one match? They never let him have one, did they? Whatever. Gorilla in two.
Masahiro Chono VS J.J. Dillon
Umm...the leader of n.W.o. Japan and the manager of The Four Horsemen? Yeah, I'm goin' with "My Hero" Chono in this one.
Steven Dunn (of Well/Dunn) VS Cousin Junior
Cousin Junior has what for Mr. Dunn would have been an insurmountable size advantage, so this would have been a literal squash match. Two and three quarters minutos.
"American Wolf" Davey Richards VS "Sweet" Stan Lane
Anybody familiar with Ring Of Honor knows this is a mismatch. Lane may have been good as a member of The Midnight Express, but Davey Richards is one of the best wrestlers out there today. He's in the C.M. Punk/Daniel Bryan league of having (and winning) excellent, hard-fought 45 minute matches. Look for him to polish off the Sweet One in about 5:50.
RECAP:
Ax defeats Jimmy Uso
Matt Hardy defeats Wayne "The Train" Bloom
"Primetime" Elix Skipper defeats General Adnan
Booker T defeats Jack Brisco
Gorilla Monsoon defeats Nathan Jones
Masahiro Chono defeats J.J. Dillon
Cousin Junior defeats Steven Dunn
"American Wolf" Davey Richards defeats "Sweet" Stan Lane
Come back tomorrow for bracket VIII!