BRACKET I
Bobo Brazil VS Jim Londos
Both of these men were strong as an Ox. And believe it or not both men won a world title match (though Bobo's title reign is not officially recognized by the NWA (which would have made him the first black world champion thirty years before Ron Simmons did it in 1992). Both men were popular, to say the least, but Jim Londos was one of if not the most popular wrestler of the 1930's. I gotta give the duke to the Golden Greek.
BRACKET II
The Iron Sheik VS "Rugged" Ronnie Garvin
Both men are former World Champions, but The Iron Sheik with his Olympic Background and higher profile victories would surmount the odds of the Rugged One by hitting Ronnie in the face with the trademark loaded boot when the ref's back was turned, then getting a "submission" by slapping on the Camel Clutch and having Garvin's hand drop three times.
BRACKET III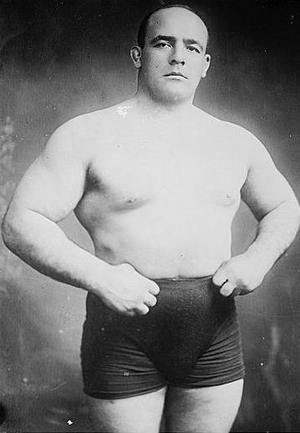 Wladek Zbyszko VS "The Nature Boy" Ric Flair
Wladek Zbyszko holds two victories over Ed "The Strangler" Lewis. He was AWA World Heavyweight Champion when that was a legitimate wrestling title (kind of). If this was a shoot, he could snap The Nature Boy in half like a twig, but this isn't a shoot; this is pro-wrasslin'. And in that realm, if you're reading this, you probably already know why Ric Flair goes over in this admittedly intriguing contest. If you're reading this and I have to explain "The Nature Boy" Ric Flair to you...thanks, I guess? I'm flattered that you would try to start learning about pro wrestling from my blog, but the fourth round of a 720-person fantasy tournament is not the best place to do that.
In the spirit of both of these men being mat technicians (in Zbyszko's case it's because that's the only component there was in wrestling when he did his thing), this match will go damn near an hour. Time of the fall: 56:12. Your winner and advancing to the round of 44: "Nature Boy" Ric Flair!
BRACKET IV
D-Von Dudley VS Alexander Rusev
D-Von's run ends here at the hands of the Russian Crushin' Machine, not least of which because of his recent submission victory over John Cena. Lana says: "Rusev. ADVANCE!"
Recap:
Jim Londos defeats Bobo Brazil
The Iron Sheik defeats "Rugged" Ronnie Garvin
Ric Flair defeats Wladek Zbyszko
Rusev defeats D-Von
Come on back for brackets V-VIII!