"The Nature Boy" Ric Flair VS "Stone Cold" Steve Austin
As it happens, Ric Flair is Steve Austin's favorite wrestler. So it shouldn't bother him doing the job for the Limosine Ridin', Jet Flyin', Kiss Stealin', WHOOO!!!, Wheelin' Dealin', By God Son-of-a-Gun! As good as Austin was, Flair was better.
"Macho Man" Randy Savage VS Brock Lesnar
Legend or not, this is the end of the line for Randy Savage. Macho Man goin' to Suplex City.
The Undertaker VS Pat O'Connor
Sorry, Pat. The Undertaker is more than even the only man to simultaneously hold the NWA and AWA titles at once to surmount.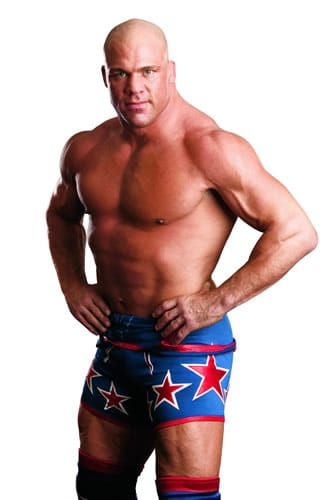 Kurt Angle VS The Rock
An Attitude Era match guaranteed to put goosebumps on The People's Arms. The fact is, The Rock never beat Kurt Angle one-on-one. One on one, I think Kurt Angle was better than The Rock. Of course, The Rock really was The Great One, so expect a Wrestlemania level match out of these two insanely talented performers.
"The Scissor King" Joe Stecher VS Frank Gotch
A dream match that almost happened, but because Gotch broke his leg never did. Many felt Stecher would have been the best opponent for Gotch since Hackenschmidt, but I think that undersells Stecher a bit. I don't honestly know who'd win this match, but I'm putting my money on Joe Stecher. It seemed like he was primed to take Gotch's title.
Hulk Hogan VS [BYE]
It works out like this because of the Fourth Round draw between Antonio Inoki and Daniel Bryan. (Though it's not like The Hulkster needed a bye...)
Ric Flair defeats Steve Austin
Brock Lesnar defeats Randy Savage
The Undertaker defeats Pat O'Connor
Kurt Angle defeats The Rock
Joe Stecher defeats Frank Gotch
Hulk Hogan advances on a bye
Come on back tomorrow for the exciting conclusion!!!!!