This is, unfortunately, a bit of a one-off. I wrote these brackets sometime in July, and was waiting to write more and gain momentum before posting. But finding time to post blog entries of any kind is going to be damn-near impossible for the foreseeable future. I'll still throw something up from time to time (like this), but don't expect me to finish this tournament any time before Summerslam 2015. I do hope you enjoy these eight matches that will never happen. They're pretty interesting:
BRACKET XXV, Third Round (Matches 589 & 590):
Edge VS George Hackenschmidt
Oh how I love a contrast of styles. Edge made his bread in TLC matches and as the opportunistic character he was, used two Money In The Bank cases and a relationship with SmackDown GM Vickie Guerrero to win the bulk of his 11 world titles. He was fast, impactful (with moves like the Edgecution, Impaler DDT and of course the Spear) and he used psychology over substance at times. George Hackenschmidt was just so strong no one could out wrestle him. I'd wager the Hack would have been able to rend the Gordian knot that was the Rated R Superstar
Mideon (aka Phinneas I Godwin) VS Lawrence Taylor
Okay. Pig Farmer / Human Sacrifice Victim /Thrall of the Ministry / Nudist / Fanny Pack Enthusiast Mideon, or one of the best defensive players the NFL ever saw and the guy that wasn't that bad in his one pro wrestling match he ever had (which happened to main event a Wrestlemania)? The choice is clear, though I can scarcely believe it: LAWRENCE TAYLOR IS ADVANCING TO THE FOURTH ROUND.
BRACKET XXVI, Third Round (Matches 591 & 592):
"The Million Dollar Man" Ted DiBiassi VS Sting
THIS would've been a dream match. You wouldn't have had to change much of anything from the original Hogan angle; DiBiassi tries to corrupt Sting with wealth, Sting ain't havin' it, they fight, it's awesome and "The Million Dollar Man" lives up to his name by being the perfect foil to an amazing babyface while drawing huge gate receipts in the process. Of course, Dibiassi has to lose in that scenario, but when you look at Sting's run as THE MAN in both WCW and TNA, Dibiassi would lose to Sting in any scenario, in spite of being one of the best heels of all time.
Alex Shelley VS Dean Malenko
SPOTFEST ALERT!!! Shelly and Malenko would've put on a helluva show had the two ever met, but alas they were from different generations. Malenko would've killed 'em, though. Just too damn good on the mat.
BRACKET XXVII, Third Round (Matches 593 & 594):
Kurt Angle VS Owen Hart
Holy. Freakin'. Crap. This is a match that would've been too good in a way. If this square-off had happened, there are few one on ones left that could've measured up to it. Two of the top five technicians of our age going at it for what one would assume would be at least a half-hour...shit, could you imagine two out of three falls for some kind of title? I could, and it makes me giddy. But hey, we've gotta pick a winner, and I've gotta go with Angle. He is one of the best wrestlers to ever do it, period. Owen was great, should have been world champion and should be in the Hall of Fame, but Kurt Angle could beat...maybe anyone in this tournament. It's true. It's DAMN true!
Stan "The Man" Stasiak VS The Boogeyman
The guy who dethroned Pedro Morales for the WWWF Championship or the guy who was amusing and ate worms? Um, Stan "The Man" please.
BRACKET XXVIII, Third Round (Matches 595 & 596):
"Cowboy" James Storm VS Damien Sandow
This would be a tight little matchup, and given that both are active competitors, it may one day occur, either in NXT after Sandow gets demoted from the main roster and WWE buys out TNA, or if Sandow finally gets sick of WWE's shit and chooses to pursue a line of work elsewhere. Storm is far more seasoned, has better moves and a world championship to his credit. Cowboy advances.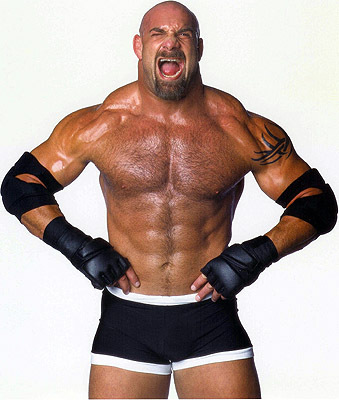 Goldberg VS "The Belfast Bruiser" Fit Finlay
Even with legalized Shillelaghs, Finlay would've been no match for Goldberg, the mack truck of professional wrestling.
RECAP:
George Hackenschmidt defeats Edge
Lawrence Taylor defeats Mideon
Sting defeats Ted DiBiassi
Dean Malenko defeats Alex Shelley
Kurt Angle defeats Owen Hart
Stan Stasiak defeats The Boogeyman
"Cowboy" James Storm defeats Damien Sandow
Goldberg defeats Finlay